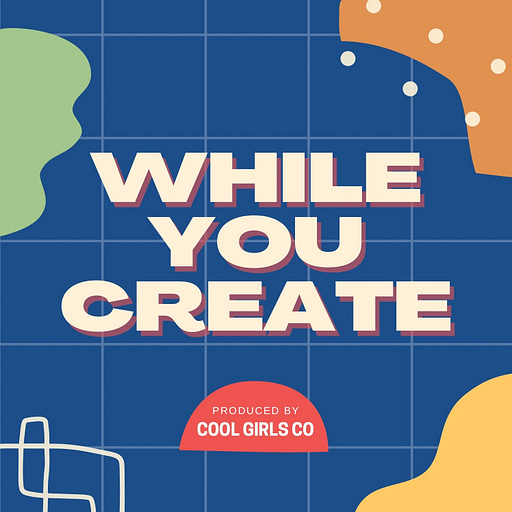 Mar 15 • 23M
E06: Creative Communities
Featuring Shirley Yu, founder of Choosii
Listen to interviews from creators, new music from artists, and stories to inspire you...while you create! Hosted by Ruth Isabel Guerra, founder of Cool Girls Collective.
It can be lonely being a creative sometimes. In this episode, we chat with Shirley Yu about cultivating authentic communities online and how to create a support system offline.
________________
Meet Shirley, the founder of Choosii, the app that lets you "Collect in Public" and showcase your awesome collections to the world of collectors like you! When Shirley isn't busy building the Choosiiverse, you can find her adding to her own collections of plants, Mashimaro comics, Line Friends merch, and anything that's named "Shirley"! Shirley graduated from Rutgers with a degree in Computer Science and has worked at some pretty cool places like Jet.com, Macy's, and New York Mag! Go to linktr.ee/choosii to follow Shirley & learn more about the Choosii app.   Our musical guest is Your Crush. Meeting on a film set in Oahu, Hawai'i natives Yan and Kahn quickly bonded over their love for pop music, something that made them stand out amongst island locals who preferred Reggae and Jawaiian music. They are both Asian American – Yan being Cambodian-Japanese and Kahn being Korean-Japanese-Okinawan – to which they owe their unique experiences as pop artists. Yan had a "bigger vision for the music [she] wanted to make," a sentiment that Kahn shared and eventually culminated in the formation of their pop duo, Your Crush, when fate brought them back together in LA.
Citing bands like The 1975 and Death Cab for Cutie as well as solo artists like Taylor Swift as inspirations, Yan and Kahn have also produced and written songs for R&B and pop heavy hitters such as Tinashe, Jeremih and Ty Dolla $ign. Indicative of their versatility as artists, the duo's music "falls into the alternative pop genre...specifically soft pop."   In stride with their roots in the film industry, the two have expressed an unrelenting love for "storytelling in all forms," something that's apparent in the animated world they have carefully created with help from artists Apricot Mayor and Erich Nemcek. The meticulously crafted universe of Your Crush is delicately pastel and irresistibly cute, bringing to life a safe space where the pains of betrayal, loss and heartbreak are softened.   They released their first single, London Eyes, in 2021 and it has now amassed over 300,000 streams on Spotify. The duo's signature soft and dreamy bedroom acoustics are strongly juxtaposed by lyrics on heartbreak, regret and reminiscence that have captured the hearts of listeners with their rawness and relatability. The tracks on the Strawberry Sheets EP explore these difficult themes, painting a story of lessons learned in the most beautifully introspective way.  
Special thanks to Adreyauna at Ink to Prosperity. Ink to Prosperity a space that provides personal & career development from a spiritual perspective. You can learn more at inktoprosperity.com or on Instagram @inktoprosperity. 
Production music is by Lohi5. You can listen more on Instagram @lohi5.music. 
While You Create is an audio show brought to you by Cool Girls Collective — we're a community shaping convos around creativity. You can find us on Instagram @coolgirlscollective. Be sure to subscribe to our weekly newsletters at coolgirls.co.